Moving Tips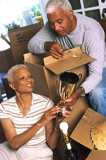 Moving can be stressful and strenuous, however, these are moving tips that can be taken care of in advance to help reduce your worry and frustrations.
Sentimental Valuables
Please secure your valuables and jewelry, and consider keeping them with you. We will not assume responsibility for misplaced items.
Household Items
All beds, entertainment centers, dining sets, etc., should be broken down (if possible) to ensure a quick and easy move.
Dresser Drawers
Drawers can remain full during the move. However, all fragile and high-value items must be removed and packaged separately. If the movers assess that drawers need to be removed, they will remove and replace them at the completion of the move.
Beds and Bedding
Your mover will place your bed furniture in the appropriate room(s) and set up your bed(s). It may be convenient to place a clean set of bed linen in the dresser drawer that corresponds with that room.
Electronics
Proper packing and handling will ensure the safety of your equipment. Secure electronics with packaging material or padding and label all boxes to help identify the packaged items.
Appliances
Prior to your move, it is the owner's responsibility to complete the following:
Disconnect washer and dryer
Remove all food items from refrigerators and appliances
Disconnect refrigerator water line
Cut off and cap all gas lines
Organization
Pack, organize, and label all boxes and containers according to the assigned room.